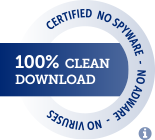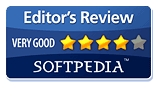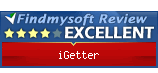 Reviews:
Here is a selection of feedback from users of iGetter. Feedback is extremely important to us at Presenta Software, it helps us to continue making great software.
Duane Letourneau
"Presenta Software's iGetter is a good app for keeping download speeds at a reasonable level. Easy to use out of the package and highly customizable, iGetter has solved my needs since I started looking for an app like this two years ago." - Smalldog.com
Softpedia rating: 4 stars
"A very nice download manager with all the bells and whistles. It has every feature you could ask for and a few unique ones, all packed up in a great interface. One of the best programs at what it does..." - Softpedia.com Review
George Norman
"The simple way to manage and accelerate downloads is to use iGetter. There's not much else to say." - FindMySoft.com Review
MacHeads rating: 4 out of 5
"...iGetter is a very powerful download program, an area in which many web browsers lack. You may notice, you can't "Pause" downloads in Safari - and if IE crashes, you are out of luck reloading your download 50% of the time. That's where iGetter comes in. In the year I have used it, iGetter has performed flawlessly. And I download a TON of stuff, everything from Software Updates to random junk programs you see recommended by others... To top it off, I give iGetter a solid 4 out of 5 macheads. It's a great program..." - TheMacMind.com Review
Sébastien Pennec
"...iGetter est un excellent gestionnaire de téléchargements." - Cuk.ch Review
Tiscali.it Review
"...Il software si è rivelato semplice da utilizzare e completo in tutte le sue funzionalità."
Rohan Barnett - Star Letter of 09'02 issue of MacWorld UK
"iGetter is a little gem of a program solves one of the most frustrating problems for those of us who are not able, or don't wish to go, broadband. Our worst fears are spending several hours downloading, only for the connection to drop before the download is completed. iGetter solves all these problems by providing: auto resume broken download, auto redial on broken connection, auto hang-up on completion and shutdown if wanted. So, you can start your download and go to bed in the knowledge that your download will be completed in the morning, and you won't have spent a minute more online than necessary."
VersionTracker.com Reviewer
"This app has changed my downloading habits like nothing before. I download and download and download..."
VersionTracker.com Reviewer
"After Monica stopped working correctly on my Mac, I spent some time searching for a new download utility. I found iGetter and have been using it for all my downloads since. It's fast, stable, and the web browser integration is great! Also has clipboard monitoring (which I turned off, but it could be very usefull)."
VersionTracker.com Reviewer
"iGetter performs well with my cable modem. It does a good job at optimizing available bandwidth during downloading! A Very fine product!"
VersionTracker.com Reviewer
"This utility works flawlessly... I first used it to download Mac OS update 9.1 which (if memory serves me) was a 90 MB download. With my 56k dialup, I just set iGetter to work one evening, went to bed and got up in the morning to find my download in my downloads folder. What could be easier?"
MacUpdate.com Reviewer
"Finally a download manager that actually works! And on OS X! I downloaded a 145 mb file over a 56k modem. I had to stop the download 3 times and it picked up right where it left off. This thing is a GOD SEND!"
The following sites recommend using iGetter as a download utility for their software:
Adobe, PDFStore, PlanetPDF, Camelaudio.com, Native-Instruments.com, Naimlabel.com